Overview
The best choice for designing top-quality, dancefloor-crushing kicks
PunchBOX is a virtual instrument designed for creating high-quality kick drum sounds. It comes with a vast, exquisite library of presets & sounds created by industry-standard sound designers Sounds of Revolution and CFA-Sound to get you started in no time.
A Sampling & Synthesis Handshake
PunchBox is the best of both worlds: expressive synthesized sounds fused with the richness and complexity of real samples bring you top-notch, unheard-of kick sounds that set themselves apart.
Each included sample is its own little masterpiece, crafted with professional experience using top-shelf instruments through the best vintage studio analog gear. The kick sound synthesizers, originating from our highly acclaimed emulations of the classic Roland drum machines, were taken to the next level and customized to perfectly fit the purpose of PunchBox.
At the heart of PunchBox is four sound generators, each a key component of your final kick sound. Factory settings were created as a jumping-off point to get started in a unique, intuitive and inspiring way.
Vast Factory Library of Quality Content
Sounds of Revolution and CFA-Sound prepared an arsenal of 1100 samples and 800 presets covering the gamut of virtually all contemporary subgenres of electronic music. It's never been easier to keep up with & trailblaze your own music production trends while maintaining a high quality standard. Organized using the reknowned D16 tagging system, browsing for that perfect sound is as smooth as a 60hz sine wave.


You'll Get a Kick Outta This FX Rack
Fulfilling the demanding needs of producers when it comes to taking a kick sound to the next level quickly drove the PunchBOX dev team to create an effect rack with unsurpassed versatility. Reordering modules by simple drag'n'drop? Wet/dry knobs and selectable Mixdown After option? Independent sends from any sound generator to any effect? Instantly render your final kick sound as a drag & drop audio file? Done.
Intuitive & inspiring workflow
The PunchBox dev team worked hard to offer you an interface that knows what you want. You'll immediately see how simple it is to just activate/deactivate/level the building blocks of your signature kick sound – with a couple mouse clicks, knob turns and level changes. Creative juices not flowing today? No problem, just browse through the cleverly tagged presets or smash the Random button!
Key features
Sound source

Up to 4 generators, operating in parallel, activated/deactivated independently

Click - Sample-based, produces Kick accent
Tops - Sample-based, e.g. hihats, percussion and noises
Tools - Sample-based, e.g midrange, almost full Kicks without sub
Kick - Sample-based or Synth-based, produces the Kick's body. 4 synthesis engines for Synth Mode to select from:

909 Kick model
808 Kick model
606 Kick model
Sine wave Kick model

Audio-to-effect send per generator
1 voice of polyphony
Optional MIDI velocity sensitivity and pitch tracking

Built-in effect rack

5 high-quality algorithms operating in series, may be independently turned on/off and reordered by drag'n'drop

Equalizer
Bit Crusher
Distortion
Filter
Limiter (cannot be reordered)

Controllable connection point in the effect chain for the generators' direct output (Mixdown after)

Samples and presets

Vast factory content designed by CFA-Sound and Sounds of Revolution

800 presets
1100 samples
Suitably tagged

Tag-based Preset and Sample browsers
User may import own samples
7 preset categories (hierarchically ordered)

Global / Master presets
909 Synth engine
808 Synth engine
606 Synth engine
Sine Synth engine
Bitcrusher Effect
Distortion Effect

MIDI Learn option
Flexible Randomizer
Direct Export function (export your final kick as WAV file at multiple bit depths and sample rates)
Video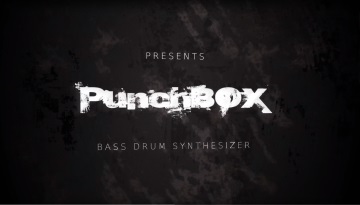 GUI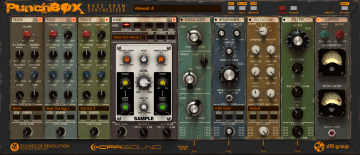 1